Using visual design and updated UI to improve the customer journey, in-store and online.
Ayoub's brick and mortar shops make an incredible first impression - The sound and aromas of freshly roasting premium-grade nuts, glorious chandeliers, shining handmade Persian metal bins on pedestals, and the world's best dried fruits. This small chain saw a huge opportunity in eCommerce and needed some help to get there.
Store Literature
Many people who shop with Ayoub's want to take something away, to remind them of what the store was, or give to a friend they think would like it. We had these ones before I started, and they were running out, so it was the perfect time to change the design!
Pain Points: One-sided, and doesn't connect back to the in-store experience as much. Needs to be printed separately for each location.
Side 1
Contemporary graphic design will draw the attention of younger audiences as a handout at street festivals, in-store, and on display next to donated items at fundraisers.
Side 2
A cleaner, more modern design. QR code creates potential for analytics and better conversion tracking. Connects the in-store experience with contact info and how to find online.
Grocery Bag Inserts
We were getting complaints and returned product, but finding spoilage had occurred due to improper storage after purchase. I created a flyer to help educate people, adding value to their experience, and improving our lasting impression. These slips also went into online orders, since we were modelled as a bulk foods store.
Minor UI Updates with a Big Sales Impact
Existing product photos on the website were taken in fluorescent lighting mixed with sunlight. I adjusted the colour on every image, and immediately the sales improved on many items!
Wholesale Catalogue Prototype
When I began as Ayoub's Marketing Director, the owner had a major goal: To grow their online sales by 10x. My first step was to analyze their data to create more effective audiences for targeted ads on social media. Next, I improved their website architecture and UI to make the user experience more seamless and eliminate pain points, from discovery and onboarding, to finding the product they hoped for, having a positive experience with their shipment, and becoming a repeat customer. Our B2C eCommerce sales immediately went up by 2.5x, and then I got started on scaling the business into B2B, with these early Wholesale Catalogue concepts, and a newfound partnership with SPUD - A large, well-known premium grocery delivery subscription.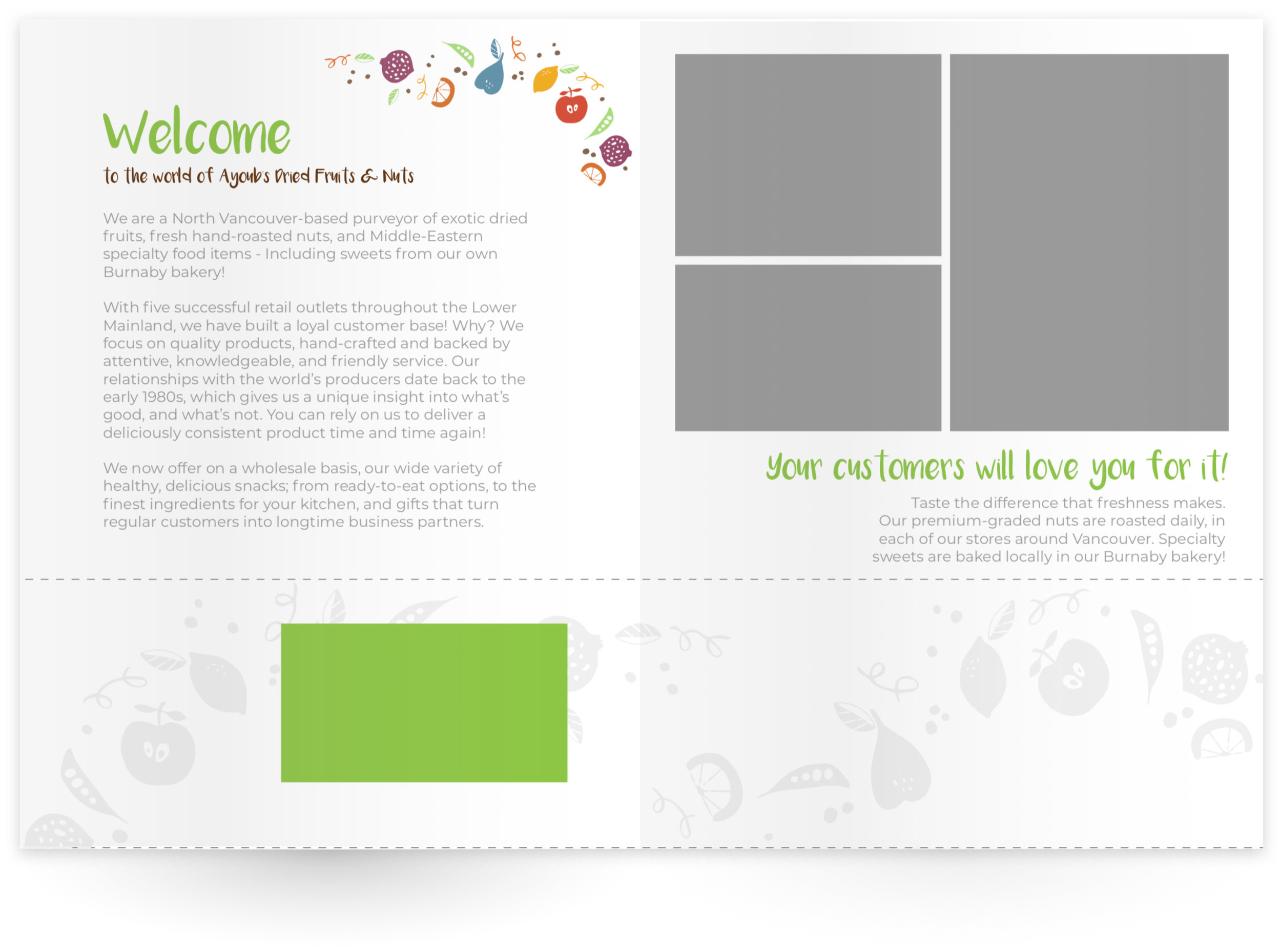 Gift Note Template
Gift baskets are an excellent type of word-of-mouth referral for a business! We had a pain point of being able to communicate the sender's messages to their gift recipients, so I created this template. A stack would be printed and kept on hand, and when a customer had a message to go with their gift, we would run one of these pre-made pages through the printer again to include their message. It folds into the size of a normal birthday card!
Samples Encouraged
In our stores, products are sold in bulk, and people will reach directly into bins to sample items. We wanted to encourage them to sample, but to use the scoops! With stores located in tourist-dense areas of the city, I decided to make the signs more visual to help with language barriers, which were common. It helped us "leave a good taste" for our customers, with friendlier staff and more beautiful visual design.
Before & After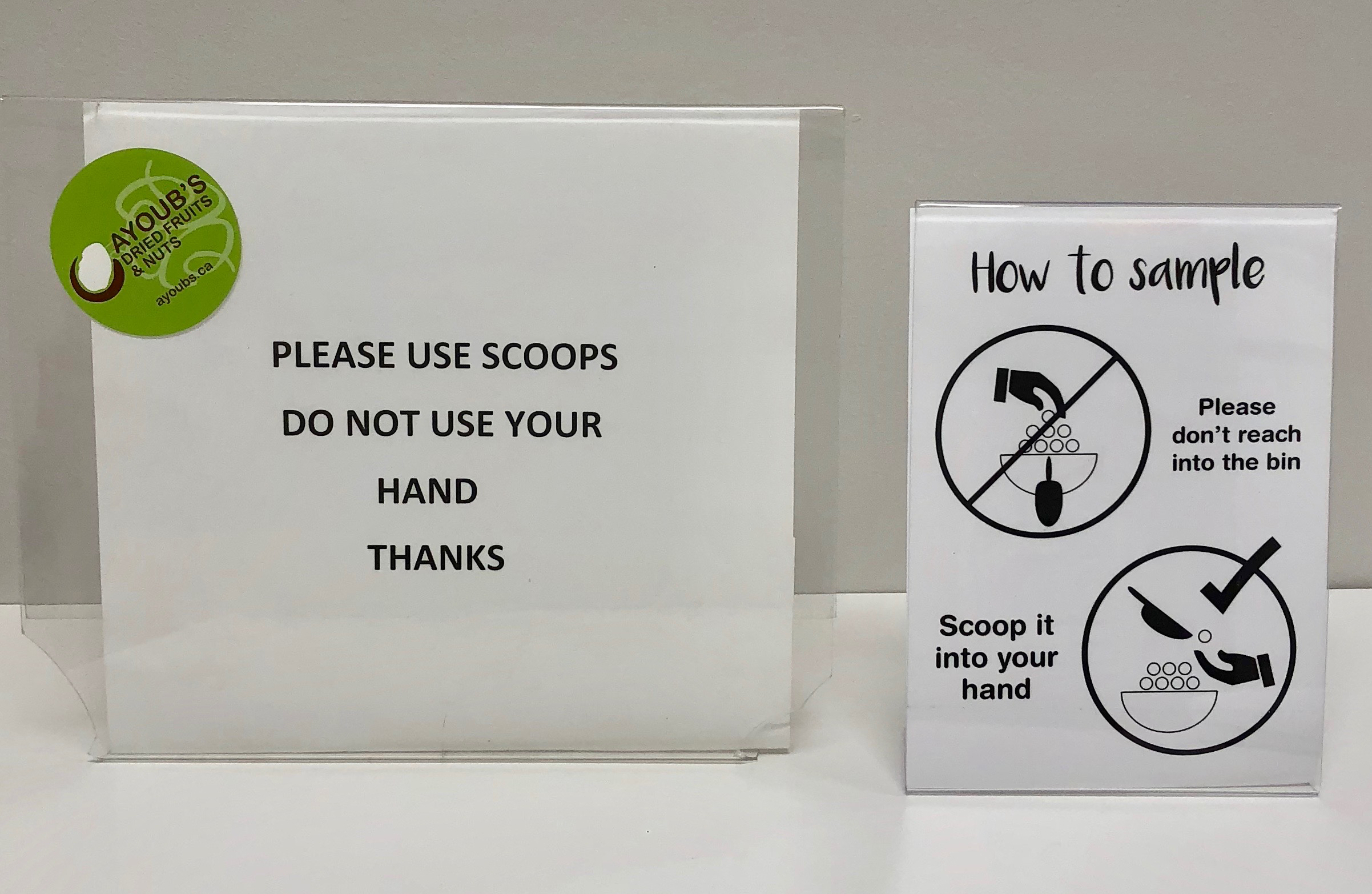 Quality & Continuity
Large-scale posters printed for each store to have on hand and display as needed. Festival materials and banners.
Lifestyle Photography & Social Media
A collection of my photos for Ayoub's social media, which I also ran as ads on Facebook and Instagram. Our audience is diverse, creating a wonderful opportunity to have many sources of inspiration, and many layers of connection to our North American customers.